For over 45 years we have kept your residential and commercial properties comfy all year round
"At Aairco San Diego, our mission is to provide exceptional comfort, reliability, and energy efficiency to homes and businesses throughout the county. We are dedicated to delivering top-notch heating and cooling solutions tailored to the climate and needs of San Diego County residents.
Our commitment is threefold:
Exceptional Service: We strive to exceed our customers' expectations by offering prompt, courteous, and professional HVAC services. Our skilled technicians are highly trained, ensuring the highest quality installations, repairs, and maintenance.
Energy Efficiency: We are passionate about sustainability and reducing energy consumption. Our HVAC solutions are designed to maximize efficiency, helping our clients lower their carbon footprint and save on energy bills.
Customer Satisfaction: Your comfort is our priority. We listen to your needs and concerns, providing personalized solutions that fit your budget. We stand behind our work with a satisfaction guarantee, ensuring you're happy with the results.
With a commitment to excellence, environmental responsibility, and customer satisfaction, Aairco San Diego is your trusted HVAC partner for all your heating and cooling needs. We're here to keep you comfortable year-round, no matter the weather."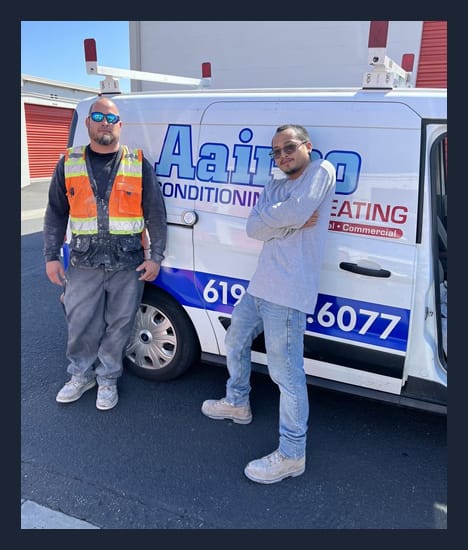 Visit our Google Profile and read the reviews that our customers have posted about Our HVAC services.
Armando H.
after shopping around for the best price I decided to go with Aairco even though they were not the least expensive. I was very pleased by the whole experience and they did a great job installing my new A/C and heater. Highly recommend them.
Petra K.
What service! Felt very comfortable having workers put in an air conditioning unit in my house. Friendly and outgoing. They explained what they were doing every step of the way!! I would highly recommend this company!!
Susan T.
My husband and I were looking to put a heater/air conditioning unit in our house, Jimmy came out to evaluate our space and give us recommendations for size to be efficient for our space.  The job was done quickly and efficiently no issues and just in time for the late summer heat!   Would definitely recommend their services!